Rare Red Vintage Beni Ourain Shag Carpet ++++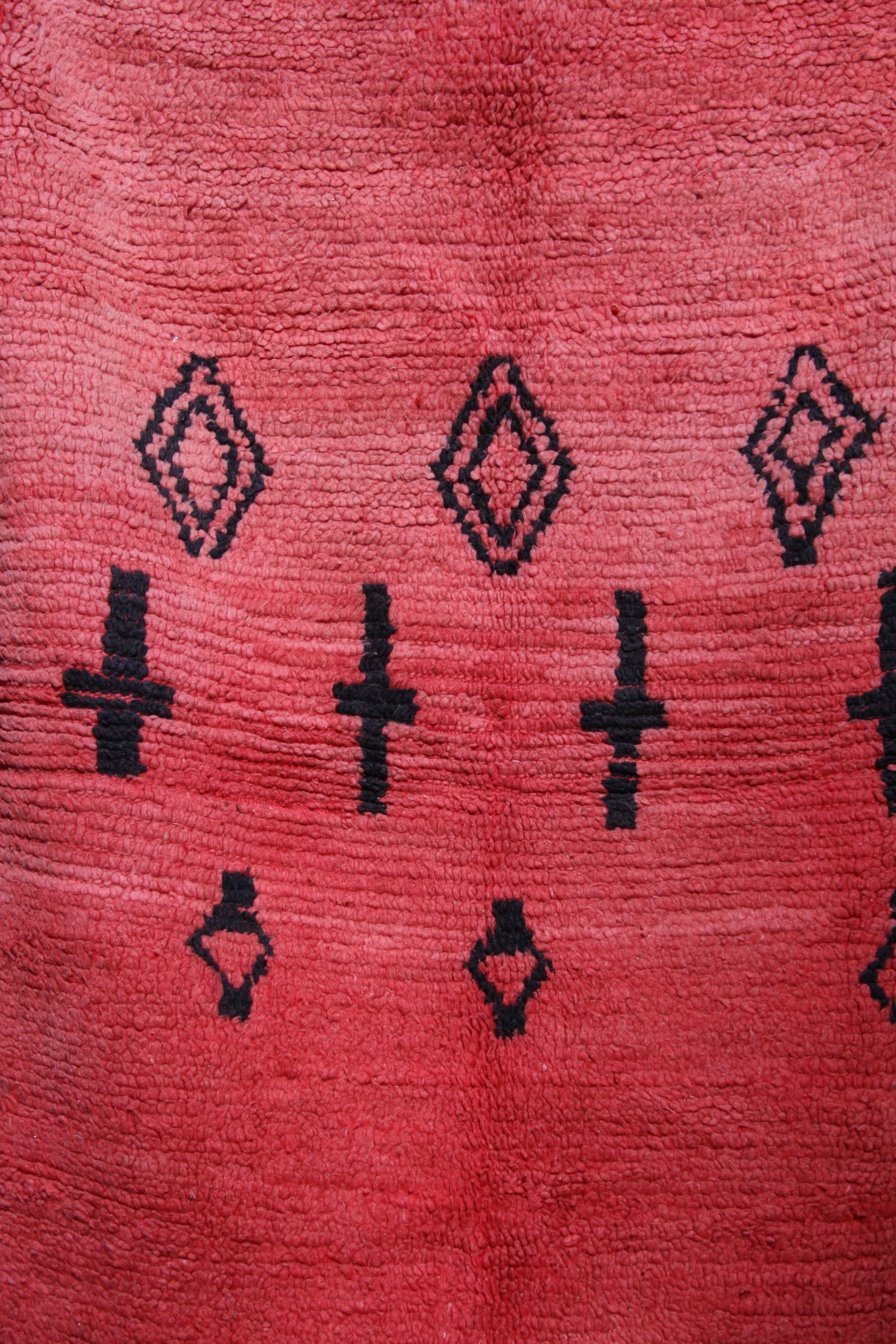 Rare Red Vintage Beni Ourain Shag Carpet ++++
100% sheep wool
4 feet 10 inches X 3 feet 2 inches
The symbols hand-knotted into this special rug are a union of female and male shapes. Tribal women choose to weave these motifs based on their environments, life events, and personal preference. The fertility designs are so universal to humanity that they have been found in common with unconnected peoples across the globe.
A rare example of a colorful Beni Ourain rug, this vintage high-pile carpet is in great condition. The years have merely softened its wool and added character to its coloration. What was once blood-crimson has faded to a monochrome rainbow of deep pinks and dusty reds. Previous washing has slightly felted the knots.
Red, in varying hues, is traditionally a dominant color in Moroccan rugs reflecting the deep red of the earth in the central Middle Atlas Mountains.
In other aspects this is a classic specimen from the Beni Ourain tribe. The two-tone design and sparse decoration exemplify their tasteful restraint. The weaver included a few rows of weft between the pile knots to allow for more texture and air to breathe. Since the weft and the warp are both yarn, this carpet is completely made of sheep's wool.
During the heyday of shag carpeting, this minimalist look was a favorite of mid-century modern designers such as Frank Loyd Wright and Le Corbusier and we have also recognized many of these rugs in the home decor photos of current magazines. The colorful variations, however, are far scarcer.
This object comes from an association in Fez, Morocco that benefits widowed and divorced women and promotes traditional weaving.
sold out