Source Materials
We thought you'd like to see a few photos we took of the places where our Moroccan crafts began their life:
Tetouan
There are so many places I fell in love with in Morocco, hidden gems scattered throughout the countryside.
Tetouan was a great place to source materials especially vintage kaftans that I am currently repurposing. Here I found basket weavers and one of the best ancient medinas in Morocco with all sorts of curiosities.
A weaver's workshop in Ksar el-Kebir
Ksar el-Kebir, one of my favorite cities in Morocco, no tourists, authentic food, ancient, and where you can ride a horse drawn cart wherever you need to go.
I visited this man several times over a few months time and found him to be quite interesting. He works for himself and says, "he is married to his loom," never to have married or had kids of his own. He works in this little hole located in the old medina of the city. It is just big enough for a loom and one person to walk into. He weaves wool blankets and aprons many of which I bought.

He gave me the name, "Minna" because he said I reminded him of a young girl he took in from the streets. He took her in like a child he never had and now she was off at university, gone. He told me our "eyes are the same." Thanks to my friends that translated this for me, I would have never known.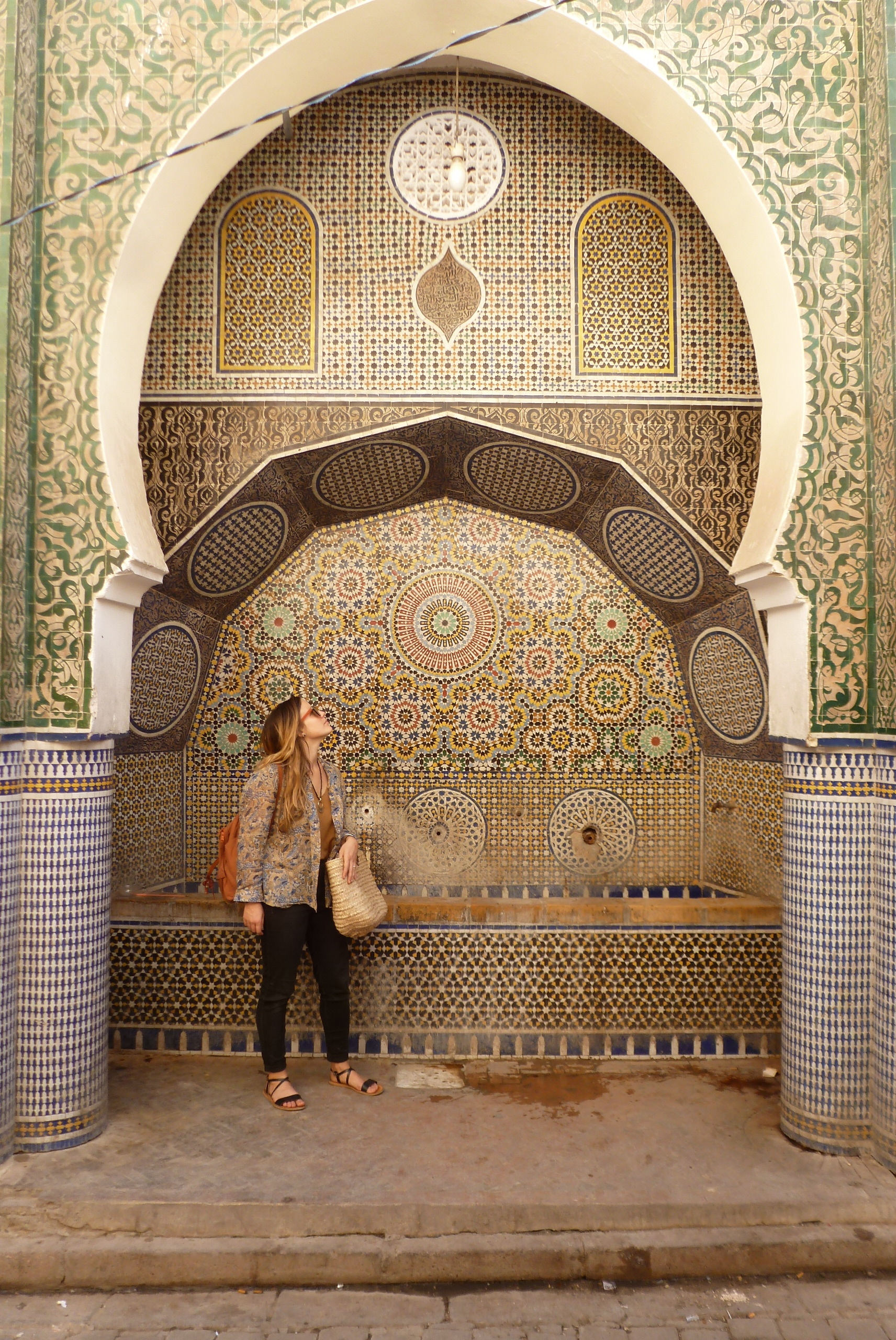 Ensemble Artisanal in Tetouan Leather Cooperative
Alikhlas leather-working cooperative located in the Artisan Ensemble of Tetouan, Morocco.
They welcomed us into their workshop and were happy to show us photos from their past and qualifications obtained in France and Japan. Old masters of the craft, a few men who are the last remaining members of their cooperative still work at this artisanal.
Many cities in Morocco have a government-sponsored 'Ensemble Artisanal' established to gather diverse master crafters under one roof and provide them with a direct market, resulting in higher wages and better working conditions.
Organization Alaouite pour la Protection des Aveugles in Chefchaouen
This is a wonderful association called the Women's Association for the Visually Impaired and Blind.
I was in here for quite some time interacting with the people and quickly this man was kind enough to give me a demo teaching me how to throw the shuttle back and forth to create new rows for the blanket. We were talking a combination of Spanish, French and Arabic and charades when necessary. After spending about an hour inside, I learned that this man pictured went blind when he was 20 and now helps women learn weaving skills to gain financial independence, confidence and friendship.
A shuttle for weaving multiple colors.
Le Center de Formation et de Qualification dans les Métiers de l'Artisanal in Fez
A government-sponsored school to train students in traditional artisan crafts
This is me walking around in the Chefchaouen medina, or "The Blue Pearl."
Street in Chefchaouen
Holiday market for Eid el-Kebir
Tisserands Family Cooperative
This woman is one of the first people we met in Chefchaouen. After spending some time in their co-op they invited us over to celebrate Eid Kebir, one of the biggest holidays in Muslim culture next to Ramadan.
A small family cooperative in Chefchaouen, Morocco that sells handwoven textiles.